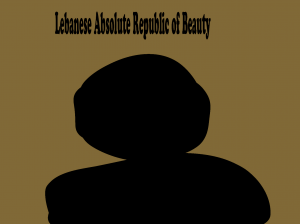 Who's that girl supposed to be?
I wake up and look in the mirror to see the reflection. Somehow it is not me, or what I think should be me. My body also feels heavy, another weight to handle.
This idea came about slowly, of what I guess I should look like. Much like Beirut after the war; slowly reconstructed into a patchwork of functional and less functional pieces.
I don't fit into what I think is thought of as pretty. But perceptions are signs of the times. Constantly measured, labeled, balanced into a prototype of a girl who is just one image. So simple, it's easy, an archetype, a clear map, an icon, of sorts, of beauty. Immutable, like the political leaders whose posters we veneer and like to think of as eternal guiding lights.
I do not know really where the image came from, but she is daring, super confident in her sexiness, like she's conquered all the people who dared not to be attracted to her. Isn't that rather a contradiction, though, to the notion of beauty? And although her eyebrows seem like paint, she has pout-y lips that look like they're practicing the word "O", and something not so alive adorns her expression; sometimes maybe, long ago, people would have thought her vulgar.
With my funny walk, questioning eyes, big divided teeth, a longer nose, a funny voice, I am not in line with this poster girl, but an outlier. A statistical exception from the rule of a perfect hypothesis: how beauty should be.
I am also not a particular consumer of "Instituts de beaute." They seem to sprout like the "khadarji" (vegetable grocers) at every corner of these city streets. Like a must-stop pit-stop, asking me "Did you not forget something?" The few times I've done my nails it felt like trying to waltz while being trapped in a straight jacket, forbidden to use these precious glazed hands. A male friend, not the type who's much into appearances, once told me that my feet looked like I had just stepped out of a cabin in the woods. Because I had no nail polish on; and it was summer. Apparently toes can carry the most alarming politically incorrect messages. Check yourself, sisters!
No, I also do not like to go to the hairdresser, in fact I hate the blow-dryer, and the small talk of what the best looks are like. Beauty – aghast – is political! Yes, take that 14-ers and 8-ers, you have company!
The "coiffeur" likes me though, and says I'm his favorite client, even though I tell him some of the styles cooked under those scissors and gun-hair dryers look like they are copies of that dog they call poodle. I told him about a super idea I really think he should look into: It's called "Instituts de après-beaute" or "Post-beauty institutes."
But spring is out and along with the akidenyah fruits sprouting along the branches and the sudden sweet warmth invading the morning air, you see a lot of nose bandages also, sported with a high head by boys and girls, along with the red eyes; marks of a brutal transformation.  Along with the big billboards advertising plastic surgery devices and victorious body parts. The battle of appearances has begun, for the big summer sun is unforgiving and sees all imperfections.
Apparently, to graduate and fly from the state of an "un-becoming" caterpillar to the much-vaunted butterfly in the Lebanese Absolute Republic of Beauty, you should (in order of importance):
Do your nose by age 16.

Permanently erase the traces of Middle Eastern brows – think laser beams – then tattoo – yes, tattoo – your eyebrows into perfect semi-circular arches.

Buy colored lenses, if you have the misfortune of having dark eyes.

Consider breast modification; after all, your bank can help.

Consider pouting your lips – with some kind of acid.

Wear 5-inch heels to school, university, work – because it's such a good work-out.
The whole industry of plastic surgery, beauty institutes, hair salons, nail bars, make-up people and society magazines (for the final results) forms a big chunk of the GDP, a vital chunk of an economic ecosystem feeding and employing many. In addition to the brain drain, sectarianism, and about ten thousand out-migrants each year, beauty is also made in Lebanon.
So I would like to call for a National Pajama Day, whereby everyone would go out in the streets in their pajamas in the state they just woke up in – no fixing yourself up in anyway, not a single hair combed. We'll call it the "rebellion of the pajamas."  After all, the revolt of "les sans-culottes" overthrew a kingdom.