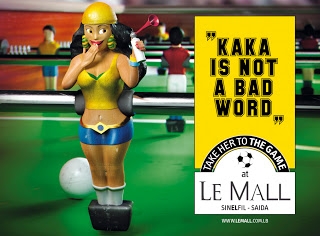 Ooohhh.. hihihi *giggle* *giggle* I didn't know Kaká was a football player!
Ooohhh.. hihihihihi.. I swoooon over hot Italian boys chasing balls…!!
Put a [football] sock in it, Le Mall! You think girls don't know football? You think we can't side with a team based on their skills? You think we're only interested in the World Cup because our boyfriends, husbands, and brothers are? You think we can't dribble and tackle and score ourselves?
Again, females are portrayed as bimbos, big-boobed (and soccer-ball-boobed as well) and strapped to a foosball table, totally ignorant about sports (as if sports were a male-only arena) and waiting for boys to "take her to the game."
What people don't seem to understand is that advertising not only mirrors people's behavior. People's behavior imitates what they see in the media as well. We reinforce images and stereotypes of any group people when we use them on billboards and TV ads. In the case of Le Mall, not only is this stereotype false of most women, it is also offensive to those of us who are constantly dismissed by men who think they own all copyrights on sports. I find it odd that Tarek Chemaly, the fantastic blogger behind Beirut/NTSC (Never Twice Same City), calls the ads "a gem of art direction and copywriting most needed when all other ads are copycats" and writes:
Obviously, for girls football is whatever their boyfriends or partners do when they are adjusting their mascara, applying night cream, or gossiping on the phone about the latest news with their own female friends (whose partners are naturally watching the game).
Also, check out the post Bring Your Woman Along on Lorena's Epiphany which starts to see the problem with the ads but falls short of acknowledging the sexism in them. Come on Loryne, you're almost there!
Oooohh.. baby.. you're such a strong man!! Please explain football to me.. *giggle* *giggle*…
Does it take balls to watch football?