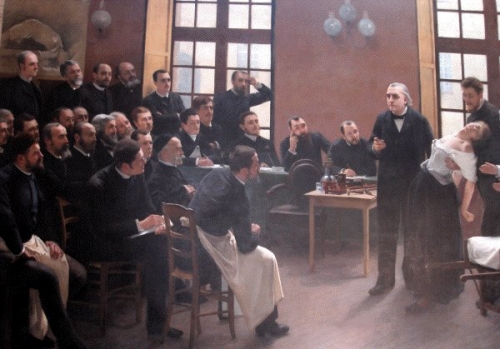 Lamia Moghnieh
When I was doing my dissertation research a couple of years ago on the types of humanitarian psychological interventions flourishing in Lebanon since the July war in 2006, I observed group therapies of Arab and Lebanese women, where they were taught to understand their behaviors, emotions and 'culture' in term of hysteria[1]. These group therapies were part of psychological education for lower-middle class women and refugees.  The psychologist's narrative during this group therapy went something like this: women in Lebanon and the Arab world are hysterical, if you compare them with other women abroad. Usually in this part of the world, women tend to express too many emotions. Hysteria is usually a women disorder".
In multiple times during these sessions, the psychologist used hysteria to make women aware of the pathological and extreme affect they engage in culturally, and to advance a more moderate, modern and reflective psychological way of being. Cultural and political events like weddings, funerals, dramatic Turkish Soap Opera and recent protests in the Arab world were evoked to show how women's affective and behavioral reactions were exaggerated and over the top. "Psychologists call this mass hysteria" he added.
I spoke with several psychologists and psychiatrists about the issue of diagnosing women with in Lebanon. They all confirmed that hysteria is consistently used as a clinical condition to diagnose women, since it is still adopted by universal diagnostic manuals that aim to classify and diagnose psychological disorders (and by universal, I mean mostly American and Canadian manuals). One psychologist argued that hysteria is still being used as a clinical condition for women, especially in the Middle East, quoting outdated and highly problematic studies that link hysterectomy surgeries and hysteria.
Lebanese psychologists and psychiatrists seem to rely uncritically and perhaps heavily on a diagnosis like hysteria in Lebanon. The same "disorder" was also used to train social workers and other professionals in Lebanon on detecting psychological problems in their centers and referring them to experts for treatment. Questions like: "do you think this woman can have hysteria?" were asked to train these mental health practitioners on the condition. Hysteria seems to be a non-problematic diagnosis for Lebanese psychiatrists and psychologists, used by them as a scientifically valid category.  But given the history of psychiatry in over-pathologizing women and normalizing them within the limits of their proper gender roles, perhaps it is important to refocus our critical gaze into the work of Lebanese psychiatry and psychology, and inquire into the ways in which these disciplines and practices understand, diagnose and treat women psychologically.
The history of hysteria as a women disorder is complicated, extensive, bizarre and oppressive. It has been linked to psychoanalysis, vibrators, radical feminism (which reclaimed hysteria and feminine hysterics as the true and radical expression of feminism[2]) and wondering wombs. It is also part of an intimate relationship between psychiatry/psychoanalysis and women's vaginas, psyches, gender role behaviors and emotions. Hysteria has moved from 19th century Europe to the United States, as psychological disorders took on a more biomedical and symptomatic form with the rise of pharmaceutical industries. It became grouped within the American Diagnostic Statistical Manual (DSM), the universally used American classifications of psychological disorders.
The American anti-psychiatry movements that combined feminist and other social-political groups in the 60s and 70s criticized the oppressive employment of psychiatry, thereby influencing the discipline and challenging its scientific and universal categories. Work by Jonathan Metzl have shown how the diagnosis of schizophrenia in the 60s for example mainly targeted Black American protesters during the civil rights movements[3]. He has also shown how the rise in pharmaceutical drugs served to regulate and treat bad housewives, single and queer women, as psychiatric pharmaceuticals were used to restrain female sexuality.[4]As a result of many critiques and attacks, "female Hysteria" as a disorder was removed from the DSM[5] in the 1980s. However,  parts of the assumptions and principles around the outdated disorder can still be found in what is now called "conversion disorder[6]" and in what the DSM classifies as personality disorders, the "histrionic personality disorder", or what Metzl calls " the modern day diagnosis of Hysteria"[7].
These kinds of 'personality disorders' have been critiqued within psychiatric circles and beyond[8]. However they seem to be non-critically employed in Lebanon without any obvious justification. How is Hysteria being diagnosed? Is this diagnosis more prominent for lower-income women for example? What kind of emotions become detected as hysterical by the psychiatrist? All these questions must be raised and a dialogue must be opened to address the issue of gendered diagnoses in Lebanon.
The intention of this piece is to point out that Lebanese psychology and psychiatry today, both informed by western American and French schools of psychology, are detached from any kind of critique and social histories of oppression, especially that of women. One of the points I am suggesting in my dissertation is that there seems to be a tight relationship between the increase in the forms of NGO-ization in Lebanon and the psychologization of different groups deemed vulnerable, like refugees, prisoners, war-affected communities, and women.  Psychology and psychiatry in Lebanon today have been expanding their governance since the July war[9]. There is now a serious move and an organization within the disciplines towards drafting and presenting a mental health law to the Lebanese government[10]. A project is also underway with the ministry of health to incorporate mental health care in primary healthcare facilities throughout the country[11]. It is probably a good time for Lebanese psychiatry to get a training itself on the ways in which gender constructs frame and delineate certain psychiatric diagnoses and produce specific definitions of pathology and normality.
---