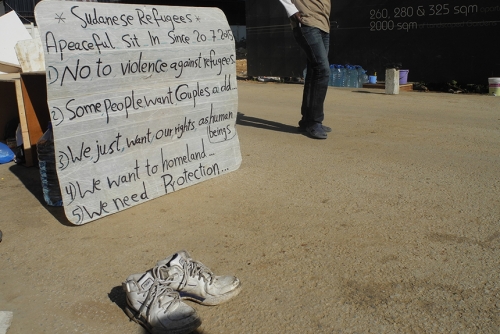 In the summer of 2012, Sudanese refugees and asylum seekers started a hunger strike outside of the United Nations Higher Commission for Refugees (UNHCR)'s headquarters in Beirut. They protested UNHCR's racist treatment, the slow and almost suspended process of gaining refugee status and resettlement in a host country, and the acquisition of their basic human rights. Sudanese strikers spoke of being treated like "children" by UNHCR staff and officers, who gave them obscure information about their status, about how they were supposed to survive with no papers in Lebanon and of the process of resettlement. No protection was given to them by the agency who is mandated to provide protection and assistance for asylum seekers. The invisible and forgotten refugees of Lebanon started a hunger strike that summer to be acknowledged and treated as humans with basic rights.
Around 50 days into the hunger strike, on August 4th 2012, Sudanese protesters were arrested outside of UNHCR office and detained in prisons for demanding their human rights and a more transparent and less discriminatory process from UNHCR. The protesters were told that they will be released provided they sign a paper not to protest again. A solidarity protest was then organized in support of the Sudanese protesters who demanded:
-The immediate and unconditional release of the detained asylum seekers.
-That UNHCR stop abusing its power and position to violate the asylum seekers and refugees' basic rights when they should be protecting and supporting them.
- that a new memorandum of understanding should be established between the UNHCR and the ministry of Interior where both acknowledge that asylum seekers or applicants to refugee status should not be arrested and/or detained under any circumstance; particularly and especially because they don't have residence permits or legal papers.
Sudanese Hunger strike outside of UNHCR Beirut, 2012
Three years later, in the summer of 2015, the battle for the rights of Sudanese asylum seekers and refugees is still ongoing, with growing accusations of racist mistreatment and discrimination by UNHCR Lebanon. An open sit-in protest spontaneously took place at the end of July 2015 outside of UNHCR headquarters in Beirut and have been ongoing ever since. The Sudanese asylum seekers and refugees are protesting the non-transparent process and blunt discrimination they are facing from UNHCR Lebanon, in their battle for gaining refugee status and resettlement. After three years, many of their refugee and resettlement files are still closed and left unprocessed, and the resettlement process is either suspended or very slow to take place. One protester said "when we ask for the reasons, UNHCR says "we don't know why".
Listen to a Sudanese protester talk about the nontransparent process of resettlement and the reasons why she joined the sit-in  from minute 4:42 to 6:10:
The open sit-in started when various Sudanese women and men gathered spontaneously to protest the slow process and lack of information provided by UNHCR about their situation. Some had their files closed for a long while, others had family members with suspended status. This gathering, while began out of frustration and need for a better treatment and services from UNHCR, evolved to become more politically organized as a way to pressure the agency to provide the protesters with rights as asylum seekers and refugees; rights that UNHCR should be able to provide by default as part of its mandate and function.
Listen to full stories and testimonies from five protesters at the sit-in here on Radio Sawt
UNHCR Lebanon used various strategies and tactics to dismantle the sit-in action: First, they resorted to cutting water and blocking bathroom access for the protesters, also prohibiting those who wanted to exit the sit-in area from re-entering it again. Some women left their jobs and stayed at the sit-in, while their husbands brought their children to them during the weekend so they could see them. While police allowed the protesters to put up tents when rain and winter were on the way, UNHCR refused to allow for tents to be established and also forbid the protesters from bringing mattresses so they slept on cartons. Many got sick among and had to leave the sit-in.
Watch a video made by Anti-Racism Movement (ARM) on how UNHCR responded to Sudanese protesters
Things escalated when two security men beat up and kick out some Sudanese men protesters on Saturday 10/10/2015 when the UNHCR office were closed. The security men, accompanied by a policeman, beat the men up and kicked them outside and let the women stay in the sit-in. UNHCR dismissed all responsibility for the protesters' safety and claimed that it spoke to the security guards but that the latter denied any such actions. No investigation was done over the beating, and security cameras were not checked to investigate the incidence. Once again UNHCR not only offered no protection for Sudanese who were protesting peacefully for their own rights, but participated in their vulnerability by saying that these protesters' safety are not UNHCR's responsibility.
Listen to Sudanese protester speak of UNHCR's mistreatments of Sudanese Asylum seekers and refugees (Minute 0:00 to 4:31)
There were similar incidences. Protesters spoke of rumors of UNHCR security guards beating up a Sudanese child and then later claiming that he fell. No investigation has been opened by UNHCR in this case either. Protesters say that the child was taken to the hospital and UNHCR did not provide any health services for his recovery.  
Despite of all these tactics, the open sit-in was however successful in that it put pressure on UNHCR to reconsider opening the Sudanese files that they said were closed for no visible or tangible reason. Some of the protesters' files were reopened due to the sit-in pressure and some of their problems seem to have been resolved. However, the fact that hunger strikes and sit-ins are the only way for Sudanese asylum seekers to get visibility and a better treatment from UNHCR is itself troubling. Moreover, UNHCR officers started to attend to each individual protester' demands separately, re-opening files that were very recently closed and trying to solve individual demands of protesters, instead of providing a transparent and bureaucratically easy and accessible process through which all Sudanese asylum seekers and refugees can gain rights and services. Protesters who have managed to get their files opened have also said that UNHCR personnel have conditioned the opening of the files and the acquisition of demands with an immediate suspension of protesting. This conditioning is also telling of the problematic and non-transparent process and treatment of the Sudanese in Lebanon.
Listen to sudanese  protester talk about the different strategies  & tactics used by UNHCR to disrupt the sit-in action (minute 1:40-3:18)  
Sudanese refugees have to literally strike, protest, scream and organize for them to be provided with basic rights for protection, information about their status and services that UNHCR is supposed to give equally to all refugees and asylum seekers in Lebanon.
Sudanese protesters spoke of the unjust and discriminatory treatment they receive from UNHCR in terms of rights and services, in comparison to other refugees. In a formal interview with a UNHCR official in 2012 on the different mental health services provided in lebanon (the interview was not allowed to be recorded), the official said that the unequal types of mental health services that Sudanese receive in Lebanon do  vary from those received by Iraqis and Syrians because the formers are "asylum seekers" where the latter were "refugees". Unlike refugees, he reasoned, asylum seekers, receive different level services because if their file is refused by the agency, UNHCR staff would be concerned that the services might hurt the asylum seekers and make them dependent when/if UNHCR have to suspend them. Ironically enough, a couple of years after this interview, global organizations that work in partnership with UNHCR had to abruptly suspend their psychiatric services to Syrian refugees because of "lack of funds". Psychiatrists working with these organizations were told to tell the refugees that the program was simply suspended and were appalled since many of the refugees were now "dependent" on psychiatric medications that should not be simply suspended because the withdrawal symptoms can cause major distress. It seems that neither refugee or asylum seeker can escape the plight of "dependency" on services provided by UN agencies and their partners.
Listen to one of the protesters compare the UNHCR treatment of sudanese with syrian refugees, arguing that all miseries are one and all humans should be treated equally by humanitarian agencies and organizations (from minute 9:09 to 10:33)
While humanitarian organizations and agencies work based on  principles of universality, humanity, neutrality and impartiality, this protester argued that humanitarian bureaucracies, funds and services many times do discriminate between refugees and end up themselves producing different typologies of miseries and humanities between refugees themselves, while claiming to attend to all humans equally. As this protester is pointing out, the politics of humanitarian aid produce hierarchies of lives and suffering.  But all miseries are one.   
There were other accusations of corruption within UNHCR Lebanon, that the agency targets a specific section of Sudanese, and have called on specific people, both Sudanese and policemen, to come and disrupt the sit-in action since it started. These people terrorized the sit-in and threatened protesters to call the police who they were told will arrest them because they have no papers (which is the same as what happened in 2012). Employees have also allegedly threatened protesters to bring them the police.
Watch video made by ARM on  how police arrestted Sudanese women protesters and said "shut the animals up"
From 2012 to 2015, it is clear that there is something systemic in the mistreatment of Sudanese asylum seekers and refugees by UNHCR lebanon. While some files have been opened, and some services acquired, mainly due to the pressure caused by the sit-in, the process of resettlement is still very obscure and non-transparent and there is no proper protection for the Sudanese by UNHCR.
In the face of these accusations and protests against UNHCR, it is not enough to resort to the argument of "UNHCR is better than nothing". United Nations agencies have been heavily critiqued in humanitarian and academic literature for their implicatedness in the work and projects of national state policies, ideologies and governance. For example, in a recent conference on the Middle East, UNRWA's practices in Syria were critiqued especially when the agency transferred its services during the fights to pro-regime strongholds, thereby making the trip for services for Palestinian refugees living in anti-regime strongholds literally a trip of life or death. It is only fair to inquire to what extent does UNHCR in Lebanon carries within it the racist ideologies and practices of the Lebanese State itself.". Moreover, one protester spoke of how the Sudanese refugee sit-in organized in Cairo was also completely destroyed and dismantled making a systemic link between the mistreatment and violence Sudanese refugees and asylum seekers are exposed to by UNHCR in Egypt and Lebanon.
We stand in solidarity with the Sudanese Asylum seekers and refugees, demanding:
-An immediate investigations by UNHCR into the beating of Sudanese Asylum seekers on 10/10/2015 and the alleged beating of a Sudanese child by UNHCR security guards and an investigation into racist and discriminatory treatment
-A more transparent and accountable process from UNHCR staff and personnel in the process of resettlement and protection of Sudanese Asylum seekers
The Anti-Racism Movement is hosting an information session this Thursday, December 3rd to highlight the plight of Sudanese refugees. The discussion will center around testimonies from members of ANJO, 'a group established to support Sudanese refugees in Lebanon on the humanitarian and legal levels, as well as their resettlement rights, and some of the Sudanese protesters will also be present.  Please join the information session to learn more how to stand in solidarity with the Sudanese asylum seekers and refugees.