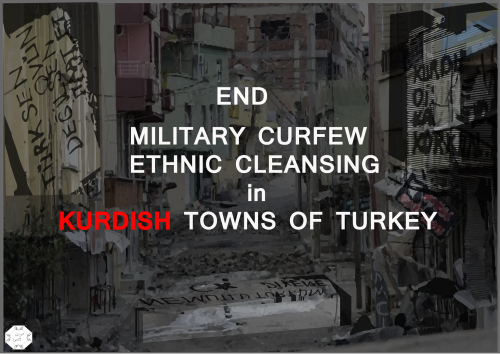 SOLIDARITY WITH 17 KURDISH DISTRICTS
We've been receiving various sorts of statements and appeals from our sisters in the Kurdish regions of Turkey. We are extremely concerned about the situation and where the Women's Freedom Assembly (KÖM) have been sending out this information: 
"Since the 7th of June, indefinite and all day long curfews have been declared 52 times in the 17 districts of 6 different provinces, where 1.3 million people live. As a result: 
1- More than 140 people have been killed, including 20 women and 26 children.
2- The wounded and sick have lost their lives due to the impossibility of timely intervention, as their right to health care has been denied. Electrical grids and water systems have been shut down, preventing people from meeting even very basic GSM operators have also been rendered inaccessible, denying people their right to communication.
3- Children have been denied their right to education Historic mosques, churches and residential areas within the Sur neighborhood, which is a world heritage site, have been damaged, bombed from above, burned down and destroyed. 
4-People have been displaced, forced to migrate from their homes once again. People – and especially women – have been subjected to all kinds of insults, abuse and mistreatment."
We at SAN, receive this news with anger, we would like to express our solidarity with the Kurdish Women and nation. Please download load the Urgent Call from Co-mayor of Diyarbakır Gultan Kisanak:Stand Up To the Siege and disseminated it to your networks, and attached to the objection letters you might want to consider sending to the Turkish government on the following addresses: 
The following is a list of Turkish state authorities and their contact information. Please, contact the Turkish state authorities to voice our demands and to call for an end to the escalating violence and war.
Prime Minister- Ahmet Davutoğlu
Tel: +90 (312) 422 10 00
Executive Assistant- Seyit Ahmet Işkın
Tel: +90 (312) 418 57 76 / +90 (312) 415 40 00
Fax: +90 (312) 422 18 99
Deputy Prime Minister- Yalçın Akdoğan
Executive Assistant- Fatih Can
Tel: +90 (312) 415 4015
Fax: +90 (312) 403 6289
Justice Minister- Bekir Bozdağ
Executive Assistant- Mehmet Şanlıoğlu
Tel: +90 (312) 419 46 69
Fax: +90 (312) 417 71 13
European Union Minister- Volkan Bozkır
Tel: +90 (312) 218 1394-95/ +90 (312) 218 1319
Fax: +90 (312) 218 1396
Foreign Relations Minister- Mevlüt Çavuşoğlu
Executive Assistant- Aytül Komit
Tel: +90 (312) 287 1665/ +90(312) 287 17 48
Fax: +90 (312) 287 88 11
Minister of Interior- Efkan Ala
Executive Assistant- İlhami Aktaş
Tel: +90 (312) 425 4080
Fax: +90 (312) 425 8509
Head of Rebuplic of Turkey General Assembly- İsmail Kahraman
Tel: +90 (312) 420 51 42-43
Fax: +90 (312) 420 5167
e-mail: ismailkahraman@tbmm.gov.tr